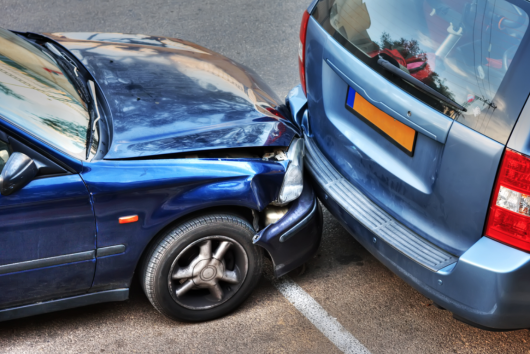 Mistake #1: Not Calling the Police
Always call the police after a car accident, even if you think the damage is minor. The police can keep you and the other driver safe by doing things like diverting traffic from the scene of the accident. Plus, a police report will be especially vital to you if you were not at fault in the accident.
Mistake #2: Not Seeking Medical Attention
Your car accident has made you late for work and thrown off your entire schedule for the day. You don't want to further derail your routine by taking time to go to the doctor for a comprehensive exam, especially if you think you feel "okay." You're a little sore but you decide to wait and see if your injuries just heal on their own over time.
Sounds reasonable, right? Big mistake.
While you may truly not have any injuries from your car accident it's a good idea to seek medical attention right away no matter how "okay" you feel.
Getting immediate medical attention is obviously important for your health because a trained medical professional can assess your injuries and help you get on the road to recovery sooner than if you put off treatment.
But it's also important to keep in mind that your failure to get immediate medical attention can be used by the insurance company to justify lower compensation for your injuries.
Mistake #3: Forgetting to Gather Information and Evidence
It is crucial to gather the other driver's personal information after the car accident. The police will put this information in their report as well, but while you wait for them to arrive it's a good idea to make note of it yourself. You'll want to keep track of:
The name, contact information, driver's license number, registration number, and insurance information of the other driver(s) involved;
The make, model, and license plate number of the other car(s) involved;
The names and contact information of any witnesses to the crash, including passengers in any other vehicles that were involved;
Details like the weather, date, and time of the crash;
 The damage to the vehicles, the vehicles' positions, and any other relevant factors, like the presence of skid marks on the road.
Document the scene and any injuries or damage by using your cell phone to take pictures (assuming it is safe to do so).
Mistake #4: Admitting You're at Fault
Your impulse may be to apologize after an accident, even if you know you're not at fault. You may think you're just being polite by saying "I'm sorry," but the other driver can later use your words against you, arguing that they were an admission of fault.
In general, you should remember that anything you say after a car accident could come back later to haunt you.
Don't say things that minimize your injuries like "I'm fine," and don't say things that could make the accident seem like your fault, such as "I didn't mean to slam on my brakes," or "I didn't see your car in the other lane."
Mistake #5: Trusting Insurance Companies
The insurance adjuster may seem nice and may even say things like "I want to help you."
Despite what their advertisements may say, insurance companies are not in the business of paying claims; they're in the business of making money for themselves.
Their goal is to pay you as little as possible for your accident, so don't assume that the other party's insurance adjuster is on your side, no matter how friendly he seems.
Mistake #6: Talking About Your Accident on Social Media
Anything you post about your accident on Facebook, Instagram, Twitter, or any other social media site can be used by the insurance company against you. For example, if a friend comments on your Facebook page asking how you are feeling and you reply "much better," the insurance company could later use this as evidence that your injuries are not serious enough to merit the compensation you really deserve.
Mistake #7: Accepting the First Settlement Offer
The first offer from the insurance company is often much lower than what they are actually willing to pay. It may seem like a good idea to get the process over with quickly by accepting the first offer, but don't sell yourself short. Your claim may be worth much more!
And remember that once you settle your car accident claim you can't go back later and ask for more money if your injuries are worse than you initially thought.
Don't lock yourself into a too-low settlement just for the sake of putting the accident behind you.
Mistake #8: Not Hiring a Lawyer
The biggest mistake you can make is not hiring an attorney to handle your personal injury claim.
The insurance adjuster may even tell you that you don't need one, but that's because they don't want you to have one. They know that accident victims with attorneys receive, on average, settlements that are 3.5 times higher than what victims without attorneys receive.
You may think that you can handle your car accident claim on your own, but a personal injury attorney can help you maximize your recovery. It's important to get in touch with an attorney soon after your accident so that he or she can begin investigating your case and putting you in a position to get the best possible recovery.
Lewis, Lewis & Falkner Can Help
Let an experienced lawyer guide you through the personal injury claims process and fight for the compensation you deserve.
Call us today at 205-553-5353 or come visit our office in Tuscaloosa for your free consultation.
https://llfattorneys.com/wp-content/uploads/2018/08/wreck-3.png
354
530
Mary Lane Falkner
https://llfattorneys.com/wp-content/uploads/2018/08/llf-logo-300x66.png
Mary Lane Falkner
2018-11-15 17:25:09
2018-11-15 17:25:09
The Top Mistakes People Make After a Car Accident